Palm Beach Gardens Motorcycle Accident Attorneys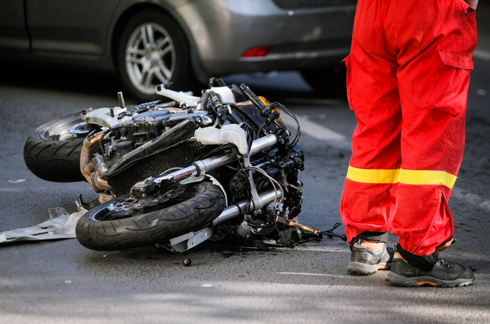 With Florida's relatively mild climate, lots of people enjoy riding a motorcycle year-round. However, its not the safest form of transportation, even if you are wearing the necessary safety gear. Motorcycles are also less visible to other motorists and not nearly as stable as a passenger vehicle. That is one of the reasons why Florida requires you to take a new rider safety course before you are granted a motorcycle-only license or the special endorsement for your existing drivers license.
You might be surprised to learn that the motorcycle rider does not cause many motorcycle accidents in Florida. They are caused by other careless motorists. If you were injured in a motorcycle accident that was caused by someone else's negligence, you have the right to pursue compensation for your injuries. Because these types of claims are complex, you need a Palm Beach Gardens motorcycle accident lawyer on your side.
On This Page:
At Smith, Ball, Báez & Prather Injury Lawyers, we understand how traumatic a motorcycle accident can be and what needs to happen to recover the money that you are owed. Call us today at 561-500-4357 to get started.
Common Types of Motorcycle Injuries
Unsurprisingly, most motorcycle accidents involve some injuries. In most cases, motorcycle riders suffer severe to catastrophic injuries since the bike doesnt offer the same protection as a vehicle does. Motorcycle riders could be ejected, make a direct impact with the other car, or become trapped underneath. Some of the most common injuries we see include:
Soft tissue injuries to the neck and back,
Broken bones,
Traumatic brain injuries,
Lower body crushing injuries,
Spinal cord injuries and paralysis,
Contusions, lacerations, abrasions, and
Wearing a helmet and proper safety gear can help reduce some riders injuries. Florida law doesnt require anyone over 21 years of age to wear a helmet, but they must carry a medical payment policy of at least $10,000 if they choose to ride without one. If a rider is under 21, they must always wear a helmet, regardless of whether they carry a policy or not.
Common Causes of Motorcycle Crashes
Weve handled a wide range of Florida motorcycle accidents over the years. Some of the most common causes of motorcycle crashes in Florida are:
Head-on collisions,
Left-hand turns,
Rear-end collisions,
Backing up into the motorcycle, and
More.
Types of Motorcycle Accidents in Florida

Numerous factors can lead to Florida motorcycle collisions. In most cases, they are due to the negligence of the driver. However, there can be contributing factors like road hazards or adverse weather conditions. Some of the most common cause of motorcycle accidents we represent clients for include:
Failure to yield the right-of-way,
Distracted driving, including texting and driving,
Changing lanes,
Speeding,
Driving under the influence, and
Other traffic violations.
Unfortunately, Florida has recorded many motorcycle fatalities over the years. If a family member was killed in a motorcycle collision, your family might be entitled to bring a wrongful death claim against the negligent party.
Contact a Palm Beach Gardens Motorcycle Accident Attorney
If you need assistance with a motorcycle accident injury claim in Palm Beach County, contact Smith, Ball, Báez & Prather Injury Lawyers today to schedule an initial consultation.
Let us help you fight for the compensation you deserve. Call 561-500-4357 today or reach out to us online.
Palm Beach Gardens Motorcycle Accident FAQ
What are Florida's helmet laws?
Florida recently updated its helmet laws to require essentially all riders wear a motorcycle helmet at all times. The main exception to this requirement is that riders over the age of 21 can opt not to wear a helmet if they have a motorcycle insurance policy that provides at least $10,000 in medical benefits.
Is lane splitting legal in Florida?
Florida does not allow motorcycle riders to ride in between occupied lanes of traffic, which is called lane splitting. If a motorcyclist is hit while lane splitting, then it could increase their liability and jeopardize their injury claim later.
What should you do immediately after a motorcycle accident?
Immediately after a motorcycle accident, you should call the police. If you are injured, request an ambulance come to the scene. If you are not transported to the hospital via the ambulance, you should seek follow up medical attention to get checked out for your injuries. If there are witnesses and you are physically able to do so, get their contact information. When it is safe to do so, call an experienced motorcycle attorney to protect your legal rights.