Florida Tort "Reform": Key Changes That Impact Injured Plaintiffs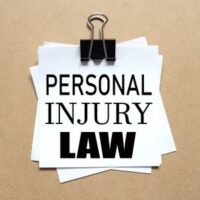 Florida's sweeping tort reform legislation (HB 837) has made a number of important changes that will impact those who are injured in terms of how long they have to bring a claim against a defendant (known as the statute of limitations). HB837 further  changes  the comparative negligence standard and the ability for injured plaintiffs to recover any damages if they are found to be more than 50%  at  fault in their own injuries, and makes changes to the admissibility of evidence of medical charges at trial.
Statute of Limitations: From Four to Two Years
Perhaps most importantly, the new law reduces the statute of limitations – or the maximum amount of time after an injury or a negligence cause of action that the aggrieved party can file a lawsuit against the defendant in the state of Florida from four to two years – however, this only applies to injury claims arising after March 24, 2023.
It is also important to note that the limitations period for other claims, such as product liability, remains unchanged. As a result, it is possible that certain negligence claims may be reformulated by personal injury attorneys as they are filed in an effort to avoid the new statute of limitations.
From Comparative Negligence to Modified Comparative Negligence
The new law also makes adjustments to Florida's appointment standard: Whereas, previously, a Florida jury would apportion a percentage of fault to the defendant, and the court would then enter judgment against that defendant based on that jury's apportionment of fault (known as comparative negligence), the new law changes the state's approach to a modified comparative negligence standard, whereby, if a jury finds that the plaintiff is more than 50 percent at fault for their injuries, they are completely barred from recovering damages from a defendant.
The new law also makes adjustments to the evidence admissible to prove the amount of plaintiff's damages for past or future medical expenses; specifically, "providing standards for evidence to prove damages for medical expenses" and requiring "certain disclosures with respect to claims for medical expenses for treatment rendered under letters of protection." The new law allows evidence of medical insurance rates or Medicare rates regardless of whether or not the Plaintiff benefited from health insurance or Medicare to receive medical treatment.
Contact Our Florida Personal Injury Attorneys
Florida's changes to civil remedies in tort claims will severely impact any injured plaintiffs whose claims arise out of incidents that occurred after March 24, 2023. As a result, it is imperative that if negligence gives rise to an injury, you speak with a Florida personal injury attorney right away in order to preserve your rights and ensure that your right to recover is protected.  The injury attorneys of Smith, Ball, Baez & Prather have represented countless victims across the state of Florida – contact us today to obtain a free consultation – we serve clients throughout the state of Florida with offices located in Palm Beach County, and Treasure Coast.
Source:
flsenate.gov/Session/Bill/2023/837