Palm Beach Gardens Truck Accident Attorneys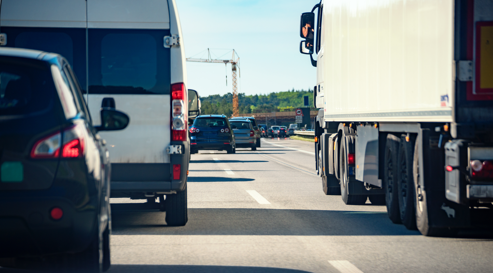 There are millions of large trucks on the road every day all across the United States. These semi-trucks weigh more than ten times what a passenger vehicle does and are considerably larger. A passenger vehicle is no match for the force, weight, and size of a large truck. Accidents involving semi-trucks typically involve catastrophic injuries or fatalities. If you or a family member was injured in an accident involving a large truck, let our Palm Beach Gardens truck accident lawyers help.
At Smith, Ball, Báez & Prather Injury Lawyers, we have years of experience representing clients for injuries sustained in Florida large truck accidents. We are not afraid to stand up to these large trucking companies, even if it means taking your case to trial. Our top priority is to fight for the compensation you deserve.
On This Page:
Get started with your claim today by calling 561-500-4357! You can also contact us online.

Unsafe Trucking Industry Practices

Truck drivers and trucking companies are bound by numerous federal regulations that govern everything from pre-trip safety checks to how many hours drivers can be on the road. Unfortunately, its not uncommon for some trucking companies to cut corners to save time and money. The result is trucks on the road that have mechanical problems, inexperienced drivers, and/or pushed to exceed the maximum hours allowed.

Some of the unsafe trucking practices we see include:
Distracted driving, including texting and eating;
Not enough training for new drivers;
Encouragement to break maximum allotted driving hours;
Not loading trucks carefully and safely;
Using over the counter drugs to stay awake longer than is safe; and
Not driving safely in adverse weather conditions.
Given that many drivers receive payment by the load, companies are cutting corners and drivers looking for any means possible to stay awake longer and drive as quickly as possible. Truck drivers may be distracted more often than most drivers because they are eating and conducting business while on the road since they lose money when they stop.

Common Truck Accident Injuries

Even in relatively minor accidents, we see a wide range of injuries. Some victims are fortunate to escape with only soft tissue injuries, but many others arent that lucky. Here are some of the more serious injuries we see in large truck accident cases:
Back and neck injuries, including dislocated discs in the spine;
Head injuries, including traumatic brain injuries;
Broken bones;
Spinal cord injuries, including paralysis;
Lacerations with heavy scarring;
Internal injuries to the organs; and
More.
How Our Palm Beach Gardens Truck Accident Attorneys Can Help
When youre injured by a large truck, its crucial to retain a knowledgeable attorney who can help you build a strong case. At Smith, Ball, Báez & Prather Injury Lawyers, we understand whats necessary to win personal injury claims. If we need to litigate your case, we arent afraid to take your case to trial.
We will start by conducting a thorough investigation and examine documents like the police report, witness statements, medical records, doctors notes, truck driver logbooks, company procedures manuals, vehicle damage, and more. Well also handle all the negotiations with the truck drivers insurance and the trucking company's representative.
If you need assistance pursuing a Palm Beach Gardens truck accident claim, contact Smith, Ball, Báez & Prather Injury Lawyers today to schedule an initial consultation. Let us put our years of personal injury experience to work for you and help you fight for the compensation you deserve.
Palm Beach Gardens Truck Accident FAQ
How do I find a good truck accident lawyer?
Finding a good truck accident lawyer can take some work. You will want to hire an attorney who has handled many other truck accident claims before. When looking for a truck accident attorney, you should ask the attorney if they have handled a claim like yours. Even though every case is unique, there are special federal regulations and rules that cover commercial motor vehicle crashes. You will want to hire a truck accident attorney who has the knowledge and expertise in this area, the resources and experience to hire the necessary expert witnesses, and an attorney who can litigate your case in court. This is because many truck accident defendants will force a case to litigation rather than settle.
How long does a truck accident lawsuit take?
A truck accident lawsuits can take some time to resolve even when all parties are cooperating. If cooperation isnt happening, such as the defendant wanting to deny liability, then you can expect the case to take longer. If a trial is needed, then it will likely take one or more years to reach a conclusion. You cant know exactly how long a truck accident case will take, but you can work with a qualified truck accident lawyer to avoid unnecessary delays.
Can I sue the trucking company?
In most instances, yes. However, an investigation will be required to figure out what parties are liable for a truck accident. In some cases, the truck driver is an employee of the trucking company. In those instances, the trucking company would be vicariously liable or responsible for the negligence of its driver/employee. In other instances, the trucking company itself is negligent. If our attorneys believe that both parties are liable, then we will file a claim and name the driver and the company as defendants.