Palm Beach Gardens Car Accident Lawyers
Being involved in a car accident can be a very traumatic experience. It could be even more stressful and overwhelming if you suffered injuries in the accident. You may be facing months of treatment, time off work, your vehicle is totaled, and you have no idea what to do next. Understandably, you likely want to know who will be paying for your medical bills, to start with.
Although our car accident attorneys have helped countless individuals facing the repercussions of a car accident, we are very well aware that each situation is unique, and we go above and beyond to ensure that each individual case receives the attention that it requires. If you or someone that you care about recently got into a car accident, it's critical that you receive legal help as soon as possible. The longer you wait, the fewer advantages you will have. Contact our car accident lawyers in Palm Beach Gardens today and let us help you receive the compensation that you or your loved one deserves.
On This Page:
If you were injured in a car accident caused by someone else's negligence, you need to speak with an experienced Palm Beach Gardens car accident lawyer.
There are hundreds of thousands of auto accidents across the state every year. Many of these accidents could have been prevented if drivers were more attentive, responsible, and followed the traffic laws. At Smith, Ball, Báez & Prather Injury Lawyers, we have years of experience helping clients recover financial compensation for their damages in a car accident. If you need assistance, our Palm Beach Gardens injury attorneys are here to help.
Causes of Car Accidents in Florida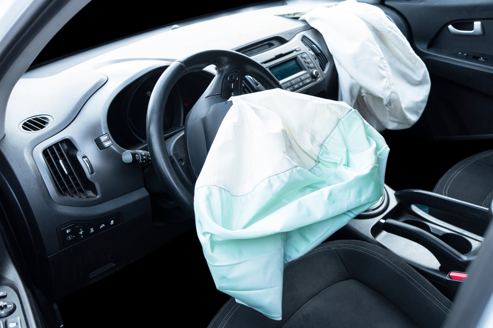 Negligent drivers cause many Florida car accidents. Distracted driving is one of the leading negligent acts we see. Some people assume texting and driving is the primary behavior, but distracted driving is anything that takes your attention off the road. It could be an unruly child in the backseat, changing the radio station, looking at the GPS, eating and driving, etc.
Some other common causes of car accidents include:
Speeding;
Driving under the influence of alcohol and/or drugs;
Drowsy driving;
Reckless driving and street racing;
Tailgating the vehicle in front; and
Illegal traffic violations.
In some cases, other factors may have played a role in your accident. Road hazards, weather conditions, and defective vehicle parts are also contributing factors. To successfully recover any compensation, you must show evidence that the other party was negligent. That is where you need the expertise of a skilled car accident attorney.
Common Injuries in Florida Car Accidents
A persons injuries from a car accident will vary depending on a variety of factors, including the vehicles speed, the types of cars, where the impact occurred, etc. Depending on the severity of the impact, some injuries are life-altering or life-threatening. Some of the most common types of injuries we see resulting from auto accidents are:
Back and neck injuries: Many car accident injuries affect the neck and/or back. Injuries can range from mild pain and whiplash to serious spinal injuries requiring surgery.

Brain injuries: Brain injuries in motor vehicle accidents are often caused by the body sustaining a sudden jolt or hitting your head on something inside the car. Brain injuries will vary from a mild concussion to permanent, life-changing injuries.

Spinal cord injuries: Like brain injuries, spinal cord injuries can be among the most severe. Spinal cord injuries are usually permanent and may involve paralysis. There is no cure for spinal cord injuries, either.
Injuries in a car accident are not limited to the examples above. The mechanics of the accident will determine what and where your injuries are. Some people walk away with only a few bruises and soft tissue damage, while others may suffer permanent damage requiring significant future medical treatment.

Why Should I Hire A Car Accident Attorney In Palm Beach Gardens?

Hiring a car accident attorney is extremely important for helping to ensure that you receive the full compensation amount that you deserve after a car accident.

Reasons to hire an attorney after a car accident include:
An attorney will ensure that your paperwork is filled out correctly and promptly.

Your attorney will serve as a reliable source by your side to help answer all of your questions and ensure that you are on the right track for success.

Your attorney is a legal professional experienced in car accidents who will represent you in court and fight for a favorable settlement on your behalf.

Your lawyer is an experienced legal expert who will effectively negotiate with your insurance company on your behalf.

Your attorney will make sure that you avoid making any mistakes that may cost you both time and money.

Your lawyer will help you receive the maximum compensation that you are eligible for.
If you were injured in a Palm Beach Gardens car accident, contact Smith, Ball, Báez & Prather Injury Lawyers today by calling 561-500-4357 to schedule an initial consultation. Let us protect your rights and help you to pursue the compensation you deserve.
Palm Beach Gardens Car Accident FAQ
Can I still file a claim even if the other driver left the scene?
Yes. You should still start a car accident claim with your auto insurance company if the other driver left the scene. First, you are eligible for PIP or Personal Injury Protection benefits for your medical bills. Also, often times, you can file against a John Doe to create the claim and keep it pending until that person is identified. If the hit-and-run driver is never found, then you can still consider filing a first-party/uninsured motorist (UM) claim with your auto insurance provider.
Are delayed injuries common after a car accident?
It is common for car accident victims to feel delayed injuries after a crash, such as aches and pain that begin hours, days, or sometimes a week later. Delayed injuries can happen due to adrenaline dulling pain receptors, or due to less severe injuries that worsen with time. Dont assume you are fine after a car accident because you dont feel pain right away. You should always go to the doctor to get checked out and get a diagnosis. Also, there are laws that require treatment within fourteen days of an accident in order to be eligible for full coverage through your auto policy. Therefore, you should not delay.
Should you still call the police after a minor car accident?
Yes, you should call the police even for a minor car accident. Disputes can often arise as to who caused the accident. Also, if you want to make an insurance claim for damage to your car or for personal injuries, it is best to have documentation from the police to prove the accident occurred and who was responsible.
Suggested Reading: